Beauty series with – Charli X Boi
Taken in studio setup this was my first beauty approach series. This photoshoot is originally planned for great material to work on the beauty side of photo retouching. Plus with the amount of creative photo-shoots i have taken on board in the past, i thought it was a great idea to do something with the more commercial side approach.
Look 1 Gypsophila // "Baby's-Breath"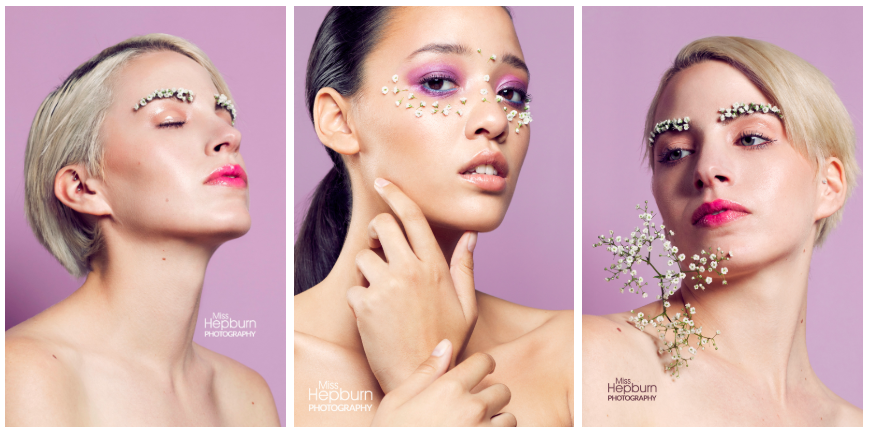 Basically the flowers were bought and Charli created he's make up looks around the flowers that were chosen. Flowers are seasonal and its one of those situations where collaboration is on a minimal budget. As i don't have the exact recommended macro lenses for this approach just yet, my 80ml prime lense actually worked out perfectly fine for this setup. I then moved onto my 24-105mm zoom lense for paired look, as the room was not big enough for me to do required pullback of the prime lense.
Look 2 Dianthus caryophyllus // "carnations"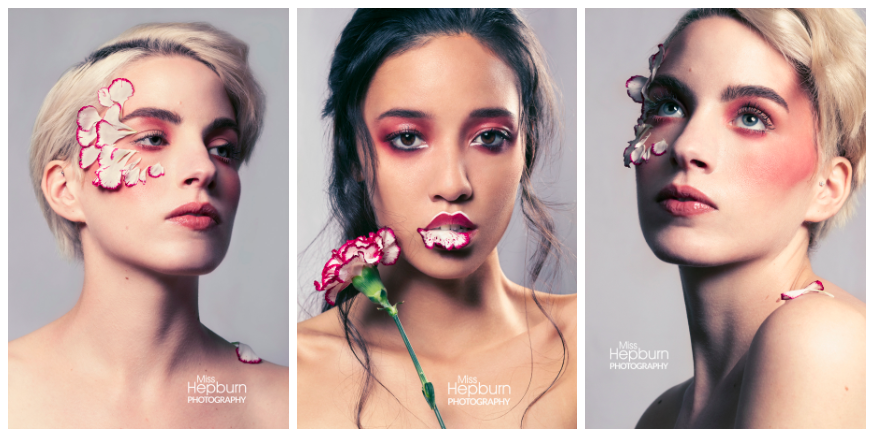 Light setup existed between beauty dish and a soft box. I definitely would love to invest in a reflector stand in the future when shooting in this approach. You don't want to need an assistant to do that job for you on set. With Robyn's hair i felt it would be great to subtly add accent lighting to her dark hair for added definition.
Look 3 Spider Chrysanthemum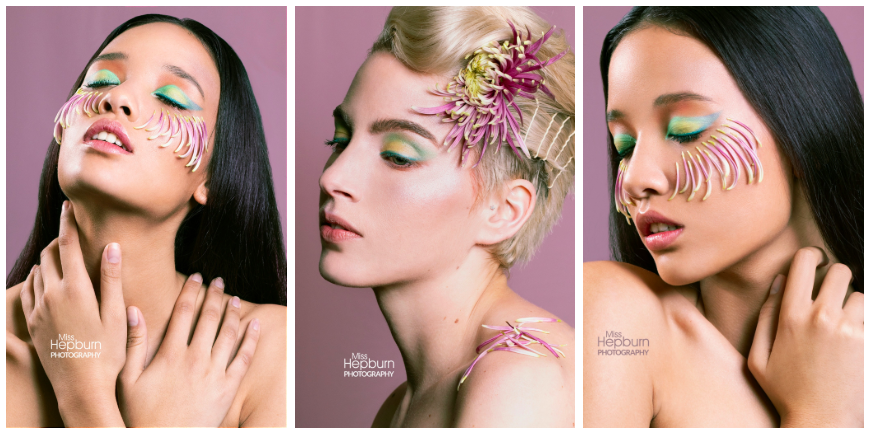 The type of photo retouching that are applied to these photographs are very high-end. Definitely not the kind of editing one may apply to a regular shoot like Boudoir or wedding imagery, it is too time consuming for that approach.
One of the important things i definitely picked up during editing these shots is having a game plan. As discussed in Pratic Naaiks introductory lesson. It's a phase i skipped as i rushed myself into these images.Only to discover hours later that it could have certainly saved me some time.
Then there is the removal of 'peach fuzz' – this comes up in unflattering lighting very easily and as every person has fine hair on their face, such detailed photography will pic up on these small things.

There is this incredible trick on how to add eyelashes to your subjects eye. Eyes are incredibly important to get right when editing imagery for beauty, its the first place people will look at. Adding lashes are simply great to create fuller volume and complete the look.

I have to mention the beauty of Infinite Color Panel, while i feel choosing colour tones of imagery is something i constantly feel the need to work on. This extension for Adobe Photoshop as been a total game changer and exactly what i needed to give imagery the finishing touch.
Big thanks to my wonderful dedicated team involved for this setup
Hair & Make up artist: Charli X BOI
Models: Robyn Blessie & Tuscany Rhys.
Image content can also be previewed on Bechance profile here.